Care You Can Trust When Things Go Wrong
Dental emergencies can be painful and scary, and they always happen at the worst possible time. Thankfully, unlike other dental offices in the area, we won't make you wait to get the immediate care you need. As soon as you feel a terrible toothache or experience a dental injury, go ahead and call Tallahassee Dental Specialists. Our team will be happy to see you right away and can schedule an appointment ASAP so you can get complete relief as fast as possible.
Why Choose Tallahassee Dental Specialists for Emergency Dentistry?
Same-Day Appointments Available for Emergencies
Dental Sedation Guarantees Patient Comfort
Care Provided by Certified Prosthodontist
How to Handle Common Dental Emergencies
Ideally, the best way to handle any dental emergency is to reach out for professional help as soon as you can.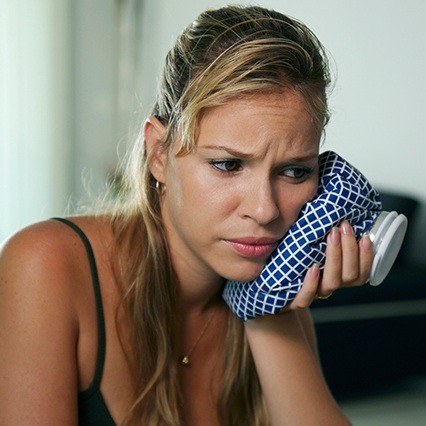 Of course, as we all know, life is far from ideal sometimes! If you're unable to come see us right away for any reason, the following tips will help provide temporary relief and dramatically increase the chances we can save a tooth:
Toothaches
Thoroughly clean around the tooth by rinsing and flossing to remove any debris that might be stuck and causing the problem. Otherwise, it's OK to take an OTC medicine and place a cold compress on the same side of the face as the tooth.
Chipped/Broken Teeth
Try to find as many pieces of the tooth that you can, and put them in a safe container. Remember to bring them to our office. A cold compress can help manage any pain or swelling, and make sure the remaining tooth is covered if it has a jagged edge. You can use dental wax or sugarless gum to do this.
Knocked-Out Tooth
While it is possible for us to put a knocked-out tooth back into place, it can only be done within an hour or so of the incident, so you need to move fast in this situation! After rinsing off the tooth, keep it wet to help it stay alive. To do this, it can be held within its socket, between the cheek and gums, or put in a container with milk or saltwater.
Lost Filling / Crown
If you can find the restoration, rinse it off with lukewarm water before putting it back onto your tooth. Some toothpaste can help if it continues to slip off. While you might not feel any discomfort, it's best to have a broken/loose restoration repaired quickly so the exposed tooth doesn't develop any damage or decay.
How to Prevent Dental Emergencies
The best plan for dealing with emergencies is to avoid them altogether, and the following tips will help you do exactly that:
Always wear a mouthguard when playing sports, particularly those with physical contact.
Preserve your teeth and don't chew on items like fingernails, ice, pens, pencils, or popcorn kernels.
Having trouble getting a package open? Use the scissors instead of your teeth—otherwise, you could chip them!
Keep up with your daily oral hygiene and get dental checkups/cleanings at least twice a year. This type of consistent care will ensure minor issues are found and addressed before they become big emergencies.
The Cost of Treating Dental Emergencies
No matter your dental emergency, it's always best to have it treated quickly. Many patients try to simply "tough it out" because they think they won't be able to afford urgent care. Waiting usually leads to even more pain and dysfunction, and an issue that may have been relatively easy to fix might now require a much more costly procedure. To help patients dealing with an unexpected expense, we're happy to accept dental insurance and also offer multiple, flexible financing options.